Product Demos
Building a bespoke data Flow in Ganymede for flow cytometers.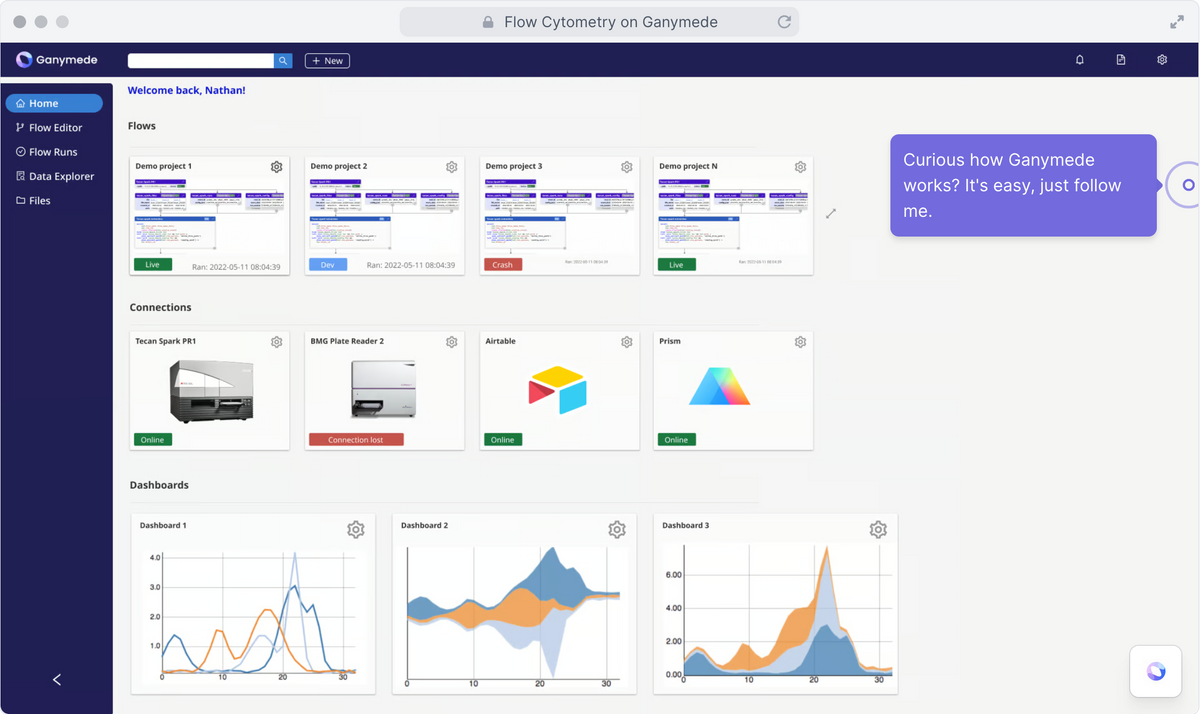 There's a lot of curiosity surrounding our platform. And it's not surprising. We've taken a decidedly unique approach to lab data. With that though, comes a bit of explanation. The team here at Ganymede have put together an interactive demo that answers many of the most common questions we get, such as:
How do you connect to physical lab instruments? Agents?
Collect AND associate metadata with raw data?
A no-code library but a low-code platform?
What exactly is a "Flow"?
How do you structure my unstructured data?
Define your own business logic?
Python and SQL in one pipeline?
End-to-end integration and automation?
Automatically push data into ELNs, LIMS, and other scientific apps?
What's in the interactive demo?
For this demo, we've decided to focus on flow cytometers. They're critical instruments in any R&D operation where cells are studied, ranging from discovery to manufacturing. Despite outputting highly standardized data, flow cytometers consistently stump data automation efforts.
Here, we show how Ganymede let's you easily build an end-to-end integration between your physical flow cytometers and a scientific app. In this case it's Airtable, but you could easily swap in your favorite ELN, LIMS, or analytics platform.
Ready? Jump right in below and click on the purple icon to progress through the demo. On a mobile device? Click here for an optimal experience.
Curious to learn more? Feel free to reach out to the team and schedule a quick call. Not interested in flow cytometers? No worries, we'll have many more interactive demos coming out shortly. Make sure to subscribe to our newsletter to get the latest news from Ganymede.
---